Laura Moffett, Esq.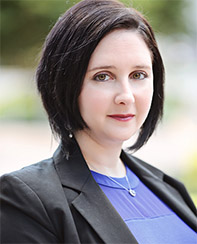 Since 2009, Laura Moffett has dedicated her practice to Family Law, including divorce, separation, child custody, and child support, throughout Central Florida. Ms. Moffett is a skilled, knowledgeable and passionate advocate for her clients. In addition, Ms. Moffett values volunteer work and giving back to the community. She has been an active member of Rotary Club of Altamonte Springs since 2013, through which she has had the opportunity to volunteer her time for charities and organizations throughout Central Florida. She is also a member of the Central Florida Family Law American Inns of Court, an organization dedicated to improving the practice of family law through continuing education and interaction with local judges.
Laura Moffett graduated from the University of Central Florida with a Bachelor of Arts in Legal Studies, and earned her Juris Doctorate degree from the Barry University School of Law in Orlando in 2009. While attending UCF, Ms. Moffett was a member of Phi Alpha Delta Law Fraternity, a professional law fraternity advancing integrity, compassion and courage through service to the legal profession and the community. She also worked as a legal assistant while attending UCF, and later a paralegal while attending law school.
While attending law school, Ms. Moffett continued her membership in Phi Alpha Delta, became a founding member of the Environmental Law Society, and was a member of Central Florida Association for Women Lawyers. Ms. Moffett received the prestigious Barry Achievement in Civic Excellence Fellowship, where she represented children in the law school's Children and Families Legal Clinic. Ms. Moffett was selected to lead as a Lieutenant Governor of the American Bar Association's Student Bar Association, served as Vice President of the Student Bar Association at Barry, and was selected as both a Teaching Assistant and later Head Teaching Assistant of the Legal Research and Writing Program by the Barry faculty. Ms. Moffett also participated in the Volunteer Income Tax Assistance Program, which was recognized with the National Achievement Award from the American Bar Association, for six consecutive years.
Ms. Moffett's professional skills and community dedication have resulted in her receiving numerous accolades, including:
The AVVO Client's Choice Award: 2016 and 2017
The American Institute of Family Law Attorneys Client Satisfaction Award: 2015, 2016, and 2017
The American Society of Legal Advocates Top 40 under 40 Award for 2017
The National Advocates Top 40 under 40 Award for Family Law: 2016
Rotary Club of Altamonte Springs, Eddie Rose "Rookie of the Year" in recognition of outstanding dedication and service for 2013/2014.
Community Involvement:
Rotary Club of Altamonte Springs – Member (2013 – present)
Secretary for the Rotary Club of Altamonte Springs (2016/2017)
President Elect or the Rotary Club of Altamonte Springs (2017/2018)
Central Florida Family Law American Inns of Court (2016 – present)