Can I File for Florida Divorce Without a Spouse?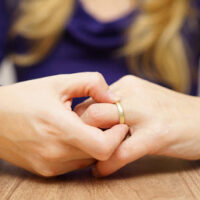 If you want to get a divorce in Florida, but your spouse refuses to sign papers or cannot be located, you may wonder, "Can I file for divorce without my spouse?"
The short answer is, "Yes, you can." As long as you meet residency requirements, and you wish to file for a no-fault divorce in Florida, you can file for divorce without your spouse.
Three situations in which one of the spouses needs to file for divorce without their spouse include:
Their spouse is out of state;
The spouse refuses to sign divorce papers or participate in the process; or
Their husband or wife cannot be found or located.
If you have found yourself in any of these situations, it is essential to speak with an Orlando divorce lawyer to discuss your options.
What if my spouse is out of state?
Under Section 61.021, Florida Statutes, spouses can file for a divorce if at least one of them lived in Florida for a minimum of six months prior to the filing. Only one of the spouses is required to meet the residency requirements to be able to file a petition of dissolution.
However, Section 48.193, Florida Statutes provides that if your spouse lives in another state, you can initiate the divorce proceedings as long as the two requirements are met:
Both you and your spouse owned and maintained a home together in Florida; and
The out-of-state spouse is served with the divorce papers, and they waive their right to contest jurisdiction.
Consult with a divorce attorney if your spouse is out of state to determine whether you can file for divorce in the state of Florida.
My spouse refuses to sign divorce papers
The second scenario in which one of the spouses may want to get a divorce without their spouse is when their partner refuses to sign divorce papers.
While a spouse's refusal to sign divorce papers can delay the process, it does not prevent the petitioner from finalizing their divorce. If your spouse refuses to cooperate or sign divorce papers, you can initiate a default divorce in the absence of your spouse. It is advised to be represented by an experienced attorney to help you navigate Florida's default divorce process.
I cannot find or locate my spouse
This situation is the most complicated one. However, just because your spouse cannot be located does not mean that you will not be able to end your marriage.
In order to get a divorce when your spouse cannot be found or located in Florida, you need to follow these three steps:
Conduct the diligent search to prove that you have taken all reasonable steps to find your spouse;
Fill out an Affidavit of Diligent Search and Inquiry and get the court's approval; and
Get a divorce by publication.
The process of divorcing a spouse who cannot be located is complicated, which is why it is important to seek legal help from a skilled divorce attorney in Florida. Contact our Orlando divorce lawyers at Greater Orlando Family Law to determine how to proceed with your case. Call at 407-377-6399 to talk about your options.