Can My Social Media Posts Be Used Against Me During A Divorce?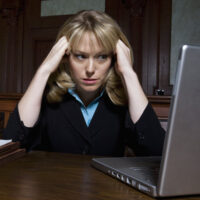 Divorce is one of the most difficult things that most adults have to go through. It takes a great amount of effort and invokes complex emotions to dismantle a life that you have invested so much effort in building. It is no surprise that many people turn to social media to process their emotions during this time. However, posts to social media sites like Instagram and Facebook can be used against you during a divorce. Even posts that may seem fairly innocuous to you at the time can have a significant negative impact. This is particularly true if you have shared children and will have to determine custody and visitation rights during the divorce proceedings.
Common Ways Social Media Can Be Used Against You During a Divorce
There is essentially a limitless number of ways that your social media posts can be used against you. Even reposting an inspirational quote can come back to bite you in some cases. It's best to go fully dark on social media during a divorce. One way to think about it is that any time you post you are potentially just giving ammunition to the other side to use. Below we'll share some of the most common ways that social media posts have come back to haunt people in divorce court.
Venting about your spouse. While social media may feel like a safe space to vent, particularly when you are being mistreated or going through a difficult time, such as a divorce, these posts are the easiest to be used against you in court. These posts can be used by your spouse's attorney to try and paint an image of you as having an unreasonable vendetta against them, being unstable, or trying to negatively misrepresent them to the community or even your children. One of the factors that judges may consider in awarding primary physical custody is whether a parent has demonstrated an interest in fostering a collaborative co-parenting relationship moving forward, and whether they will adhere to the visitation schedule and allow the other parent to see their child. Posts painting your spouse in a highly negative light can work against you in this regard.
Celebrating your divorce. It may seem like a healthy thing to do to celebrate your divorce by partying or drinking with your friends, and we're not here to say it isn't. We're just telling you not to post any pictures of it. Even a one-off divorce celebration can produce images that can be used by the other party to paint you as a drunk, irresponsible, or incompetent parent.
Showing off. It's common in today's society to show off lavish purchases such as cars, jewelry, and expensive vacations on social media, but doing so while your divorce proceedings are ongoing can create the impression that you are trying to deplete your shared marital assets so that your spouse will not get a fair and equitable share during the settlement. This can come back to bite you when it comes time to divide and distribute assets.
Schedule a Consultation with the Greater Orlando Family Law Firm
If you are contemplating or currently going through a divorce in the Orlando or greater Florida area, there is no limit on the number of complexities that can arise, particularly if it becomes contentious. The experienced Orlando family attorneys at the Greater Orlando Family Law Firm are ready to help. Contact us today to schedule a consultation.
Source:
psychologytoday.com/us/blog/better-divorce/202111/marriage-divorce-and-social-media-recipe-disaster