Divorce Vs. Annulment Vs. Legal Separation: What's The Difference?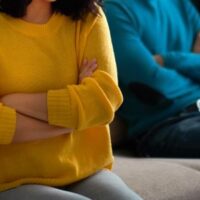 Filing a petition for divorce can be a nerve-wracking and stressful thing to do. Many people mistakenly believe that filing for divorce is their only option to end the marriage. However, there are also two other options: an annulment and legal separation, though they are not available for every couple.
Three Options to End a Marriage
Generally, there are three options to end a marriage:
Divorce
Annulment
Legal separation
However, legal separation is not available in most states, while an annulment can be granted in limited situations.
What is a Divorce?
Divorce is a legal dissolution of a marriage. While some states require the petitioner (a spouse filing for divorce) to prove that the other spouse was at fault for the dissolution of marriage, many other states allow courts to grant a divorce on no-fault grounds.
Florida is a no-fault divorce state, which means either spouse can file a petition for divorce without having to argue that their spouse did something wrong. You can simply state that your marriage is "irretrievably broken" to file a divorce in Florida.
While it is relatively easy to file for divorce in Florida, handling divorce-related issues can be complicated. In order to get a divorce in the Sunshine State, the spouses must agree on:
Property and debt division
Alimony (spousal support)
Child support
Child custody (timesharing)
Often, couples in Florida seek a collaborative divorce or resolve their contested issues through mediation as a quicker and cheaper alternative to traditional divorce litigation.
When the spouses cannot end their marriage amicably with the help of a divorce attorney, their divorce case may proceed to trial.
What is an Annulment?
An annulment is the second option to end a marriage in Florida. An annulment is a legal decree stating that a marriage is null and void. Unlike a divorce, which ends a valid marriage, an annulment treats your marriage as if it never existed.
As we have mentioned earlier, courts grant an annulment in rare and limited situations. The party seeking to annul their marriage must prove that at least one of the following conditions existed:
Lack of or inability to consent. A spouse may be unable to consent to a marriage due to a mental illness or being under the influence of drugs.
Impotence. One spouse knew they were impotent but failed to disclose it to the other spouse.
Bigamy. One of the spouses was already married to another person.
Incest. The spouses are biologically related to each other.
Underage spouses. One or both of the spouses were underage when they got married.
Duress, fraud, or misrepresentation. The marriage was obtained by fraud, duress, or misrepresentation.
What is Legal Separation?
Legal separation refers to a legal process by which married spouses are living apart while being legally married. When a couple obtains legal separation, they cannot remarry until formally ending their marriage.
While some states allow spouses to obtain legal separation, Florida is not one of those states.
Discuss Your Divorce Options with a Lawyer
If you are considering a divorce, contact a knowledgeable lawyer to discuss your options. Speak with our Orlando divorce lawyers at Greater Orlando Family Law to talk about your situation. Get a case review by calling 407-377-6399.