Do Parents Have To Testify In A Florida Child Custody Hearing?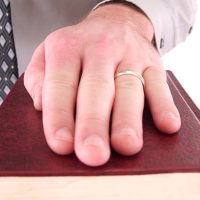 If you are involved in a Florida divorce case or other legal matter involving child custody, the idea of going to court can be overwhelming and intimidating. However, it may be necessary in certain proceedings. The Florida child custody statute focuses on the child's best interests for disputes, and the concept covers much more than just where the child lives. Custody encompasses the important decisions involved with raising the child, and the law prefers both parents to play a role. The problem is that the parties may disagree over the details.
When there are disputes over child custody, the case will often end up in a contested hearing. This proceeding is similar to a trial, where the parties have the opportunity to present evidence and witnesses. Therefore, it is likely that both parents will likely need to testify. You will not feel as overwhelmed when you have an Orlando child custody lawyer at your side in court. It is also helpful to know what to expect during the hearing.
Contested Hearings on Child Custody: There are some elements of the proceedings that may be familiar from what you know about trials. The hearing is overseen by a judge, and a court reporter will be on hand to create a record. The parents are the parties, and they take turns presenting their evidence and witness testimony to the judge. When you are called to the stand, your attorney will guide you through the basic process of testifying:
You will be sworn in and take an oath to testify truthfully.
Your lawyer will ask you questions related to the child custody dispute, and you will typically rehearse before the hearing.
The opposing attorney will have the opportunity to ask questions, so your lawyer will advise you on the possible topics.
It is possible that you could be called back to the witness stand later in the proceedings to provide clarity or additional information.
Options to Avoid Court: Many child custody matters do not go to a contested hearing at all, which could take some pressure off if you have concerns about testifying in court. It may be possible to work out disagreements through your respective attorneys, and your parenting agreement can be entered as an order in court. In addition, some parents benefit from having more structure with settlement discussions. Mediation is an option when informal discussions have not been productive. During this process, parents sit down with a trained mediator who helps them craft solutions to the child custody dispute.
Besides not having to testify in court, agreements on child custody give you certainty. You can also resolve your case in a shorter time as compared to a contested hearing.
Count on a Greater Orlando Child Custody Attorney for Help with Hearings
Though parents will need to testify in a contested hearing for child custody, you can feel confident about the proceedings when you have assistance from an experienced lawyer. To learn more, please contact Greater Orlando Family Law. You can set up a consultation by calling 407-377-6399 or visiting us online.
Source:
leg.state.fl.us/statutes/index.cfm?App_mode=Display_Statute&Search_String=&URL=0000-0099/0061/Sections/0061.13.html