Exploring The Florida Family Court Mediation Process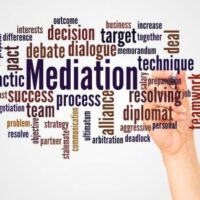 Oftentimes, parties are unable to agree on important issues regarding their child or their marriage. This inability to agree can become very contentious and may require the implementation of a professional third party to mediate these disputes between the parties and develop a resolution that works for both parties. The following article will discuss the concept of mediation within the Florida family court system.
What is the purpose of mediation?
Mediation describes two or more parties coming together to discuss their unresolved issues and hopefully come up with a resolution with the help of a mediator. A mediator is a professional who facilitates the conversation between the parties and makes sure that the parties are both heard and are able to express themselves clearly. A mediator is not allowed to take sides and cannot state which party is "right" or "wrong." Instead, a mediator remains neutral and helps the parties find potential solutions for their issues.  Furthermore, the mediator is strictly prohibited from offering counseling or legal advice.
In the family law context, there are many issues that can create conflicts between individuals, such as custody issues, or issues regarding child support or alimony. Sometimes, due to the emotions involved in the process, the mediation session might end without any resolve. This is especially true when parties find it hard to even be in the same room with one another. In these cases, the parties may have to go to court to have a judge resolve some of these issues. However, if the parties are able to resolve some or all of their issues, a mediation agreement will be drafted by the mediator (which will be reviewed by the parties and their respective attorneys, if available, for accuracy) and submitted to the court. Once approved by the court, the terms of the mediation agreement are binding and enforceable.
What are some potential benefits to using mediation?
Family court mediation can be beneficial in some of the following ways:
Mediation provides an opportunity to speak with someone who is impartial.
Mediation provides you with the autonomy to make your own decisions regarding issues such as child custody, child support, and alimony.
Anything you say in a mediation session remains confidential.
The mediator can help you overcome certain communication issues with the other party.
Mediation agreements are enforceable by Florida courts.
Mediation can save the time and costs associated with going to court.
How can I prepare for a mediation session?
There are a few helpful tips you can follow to ensure that you are prepared for your mediation session:
Obtain legal advice.
Organize your information/documentation.
Arrive on time and come prepared.
Make sure you fully understand the dispute.
Set realistic goals for the session.
Consult an Orlando Attorney for All of Your Family Law Needs
Greater Orlando Family Law can assist you with all of your family law needs. We have experience with several areas of family law, including divorce, property division, child custody, child support, and visitation. Contact our skilled Orlando family lawyer today for help.
Resource:
flcourts.org/Resources-Services/Alternative-Dispute-Resolution/Mediation-in-Florida#rewrite_Advantages_to_mediation_5