Florida Divorce: What if You Cannot Find Your Spouse to Serve the Divorce Papers?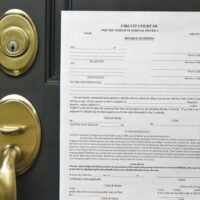 When beginning any legal process, including a divorce case, one party must file a petition, and then the other party must be served with the papers. But what happens if the responding party cannot be found or located? Does your inability to locate your spouse, let alone serve the legal documents, prevent you from getting a divorce in Florida?
Luckily, there are alternative legal procedures to serve an absent respondent when the service cannot be done in-person. However, there are drawbacks to these alternatives. If you cannot find your spouse to proceed with the divorce, consult with an Orlando divorce attorney.
Finding Your Spouse to Serve the Divorce Papers
Any divorce case in Florida begins with one spouse filing a Petition for Dissolution of Marriage. After the filing, the petitioner is required to serve the divorce papers to the other spouse (the respondent). Typically, this should be done in-person through the sheriff or a certified process server.
If the in-person service cannot be completed, there are alternative ways to serve divorce papers to your absent spouse. However, you cannot just tell the court, "I cannot find my spouse" to use those alternative service methods.
Under Florida law, the petitioner must exercise "due diligence" when attempting to find their absent spouse to proceed with the divorce process. In other words, if you cannot locate your spouse to serve the papers, you must exhaust all reasonable efforts to find him or her before the court can order an alternative service method, such as citation by publication.
What is 'Due Diligence' When Attempting to Locate an Absent Spouse?
But what is "due diligence" when it comes to locating a spouse who cannot be served with divorce papers? You have exercised due diligence when you have:
Contacted your spouse's current or last known employer;
Talked to the spouse's known friends and family members;
Checked the spouse's social media accounts; and
Monitored his or her bank and credit card transactions.
If the petitioner cannot find their spouse after exhausting all of these options, then the court is likely to issue citation by publication, which refers to the practice of publishing a notice in the newspaper that notifies the absent spouse of the divorce.
When filing an affidavit with the court, you must prove how you exercised due diligence when attempting to locate your spouse.
Drawbacks to Citation by Publication
Although for those who cannot locate their spouse, citation by publication may be the only way to proceed with the divorce, notifying your spouse of the pending divorce action through the newspaper has its drawbacks.
After issuing a citation by publication, a default will be entered against the absent spouse. Although a default allows you to finalize your divorce, the court will not be able to:
Award alimony or child support;
Divide marital property and debts; and
Establish a time-sharing agreement.
All of these issues can only be decided after your spouse returns. If you cannot locate your spouse and wish to proceed with your divorce, contact an Orlando divorce attorney at Greater Orlando Family Law to assist you with the search and make sure that you exercise due diligence when attempting to find your spouse. Call at 407-377-6399 for a case evaluation.
https://www.orlandolegal.com/does-it-matter-who-files-for-florida-divorce-first/