Getting Engaged? Consider Discussing a Prenup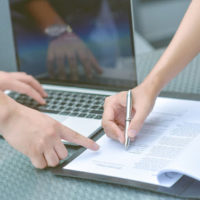 For some, the concept of bringing up prenuptial agreements with their loved ones when they're getting engaged is daunting. However, today, prenuptial agreements are now more important than ever, regardless of how wealthy couples are, especially for those who are entering their second or subsequent marriage, later in life, when they have additional assets and may have other family members to make plans for.
Some of the most common topics addressed in prenuptial agreements include what will become of the family business, whether certain assets are off-limits, and whether/how any trusts will be managed in a particular way so as to preserve those assets for future generations or children from prior relationships (especially when one spouse is bringing more wealth into the marriage than the other). In a nutshell, prenuptial agreements can not only provide a game plan for what will happen to assets and/or debts in the event of divorce, but they can govern any issues that a couple wants to, as long as that coverage comports with the law. Still, how do you broach the topic with your loved one?
Do It Sooner Rather Than Later
Keep in mind that, when it comes to a prenuptial agreement, the earlier you bring the topic up, the better. These agreements can be held invalid if they are brought under conditions that can be characterized as "coercion"—i.e. at the last minute, without the other party having adequate time to contemplate its terms, etc. In addition, trying to deal with a prenuptial agreement while you are in the throes of planning a wedding can insert a significant amount of stress into a relationship. Make sure that you start these discussions at least six months in advance (while ideally providing even more time).
Make Sure You Follow These Basic Guidelines
Again, while a prenuptial agreement can govern what you want it to govern, as long as that topic is legal (for example, you typically cannot exclude responsibility for child support because the courts view child support as the right of the child and a child cannot contract his or her rights away), the basic requirements include the following:
Not involve coercion;
Be fundamentally fair;
Be the product of full disclosure on the part of both parties; and
Be reviewed by each party whilst they are represented by separate legal counsel.
Contact Our Florida Prenuptial Agreement Attorneys to Find Out More
Prenuptial agreements outline the basic expectations that each individual can bring to a marriage and can serve as the best protection and reassurance to enter into that relationship. Contact our Orlando/Winter Park prenuptial agreement attorneys at Greater Orlando Family Law today to find out about our legal services in drafting these important legal tools.
Resource:
grbj.com/articles/92635-getting-engaged-this-valentines-day-dont-forget-the-prenup