How Divorce Affects Adult Children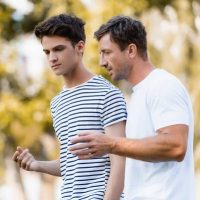 When you think of children of divorce, you may imagine kids under the age of 18. The truth is that children of divorce can be any age. With gray divorces on the rise, children may be in their 20s or 30s. They may be in college or married with children of their own. They may be trying to navigate life on their own as they deal with their parents' divorce.
Some are sad and angry. How could their parents split up now? Holidays will likely change now, affecting the children. Who do they visit — Mom or Dad? Will they have to take someone's side?
Some adult children feel relieved that their parents have divorced. They may have had many negative experiences with their parents growing up. They may have witnessed many arguments and yelling matches over the years. They may have watched their parents treat each other badly.
However, many adult children struggle in some way. They may have many good memories and feel as though their childhood was a lie. They may wish they could rewrite the past.
A divorce shakes up an adult child's sense of normalcy. There are no custody battles involved and no child support to contend with. There is no shuffling between both parents' houses. These children are adults. Still, there is a sense of discontent. These children feel unhappy, unsafe, bitter, and even angry. How could their parents divorce after all these years?
After hearing about their parents' divorce, adult children may struggle with relationships and intimacy. They may even change their views about marriage. If their parents can break up after spending 20-30 years together, then no marriage is safe.
What Parents Can Do
As a parent, you may think that your college-aged child may not care that you're getting divorced. But they do. Your child's life will change, and they're scared. Help them feel better by doing the following:
Be united. Both parents should share the news together. Do this in person, if possible.
Be sensitive. Try to understand your child's feelings, even if you don't necessarily agree with them. Do not belittle them or ignore their feelings. They have a right to be upset about the divorce, regardless of their age.
Explain what will change. Will you be selling the marital home? How will holidays be handled? Let your child know what to expect now so they can prepare.
Don't be negative. Be honest about the divorce, but don't focus on the negative aspects. One parent should not be belittling the other.
Don't fight in their presence. Avoid arguing in front of your children. They may feel forced to take sides, which can lead to resentment. In fact, you should tell them not to take sides.
Contact Us Today
Children of divorce can be any age. Even adults can feel sadness or anger over their parents' split.
An Orlando divorce attorney from Greater Orlando Family Law can help you divorce in the best way possible. To schedule a free consultation, call 407-377-6399 or fill out the online form.
Source:
psychologytoday.com/us/blog/home-will-never-be-the-same-again/202212/how-gray-divorce-affects-adult-children