How Do I Tell My Partner I Want a Prenuptial Agreement (Prenup)?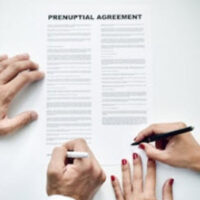 Telling your soon-to-be-spouse that you want a prenuptial agreement (prenup) may sound like the most disheartening thing you can say to your partner before the wedding.
However, if you truly want to protect your personal property and take advantage of other benefits of a prenuptial agreement, you will need to have that conversation sooner or later.
Obviously, there is no right or wrong way to bring up the idea of a prenuptial agreement. The following are the guidelines for telling your partner that you want a prenuptial agreement.
If you are considering signing a prenup before the wedding, you may want to consult with an Orlando prenuptial agreement attorney to explain your legal rights and help you draft a legally binding agreement.
How to tell your partner about a prenuptial agreement?
If you are planning your wedding and are excited about the thought of getting married, hinting at the possibility of a breakup may not sound like a good idea.
However, signing a prenuptial agreement is a perfectly reasonable decision for modern couples considering the high divorce rate in our country. While it is understandable that it takes some courage to bring up the topic of a prenuptial agreement, you should follow these tips to help you manage the situation the right way:
Do not delay the conversation. The worst thing you can do is delay the conversation. Your partner will need some time to think about it. Waiting until the last minute to talk about a prenup may cause your partner to feel pressured, which isn't something you should do if you want the conversation to go smoothly.
Be completely honest. Honesty is never a bad thing. The same principle applies to discussions surrounding a prenuptial agreement. Be upfront about why you want to create a prenuptial agreement. If you aren't completely honest, you can end up causing an avoidable conflict or tension.
Allow your partner to participate. Make sure your partner is involved in the process of drafting a prenuptial agreement. It's a much better alternative to simply approaching your soon-to-be-spouse with a pre-drafted prenup. You should discuss the terms of the agreement and consult with an experienced attorney to draft an enforceable and valid document.
Talk about the benefits of a prenuptial agreement
Once you have discussed the idea of creating a prenuptial agreement, it would help to point out the benefits of a prenup in Florida. Your partner needs to understand the advantages of creating a prenuptial agreement:
A prenup protects your individual interests and assets;
It allows each partner to decide what should happen to their assets in the event of divorce or death (instead of having a judge, who is a complete stranger, to decide for you);
It's an opportunity for both partners to disclose all of their assets, liabilities, and sources of income; and
The mere thought of getting a divorce may allow the partners to focus on how to make their marriage stronger.
Once you have convinced your partner to create a prenup, do not hesitate to contact an Orlando family attorney to help you draft the document. Contact our prenuptial agreement lawyers at Greater Orlando Family Law to talk about your situation. Call 407-377-6399 to receive a consultation.