Is There Any Technology That Can Help Me Co-Parent & Get Through My Divorce?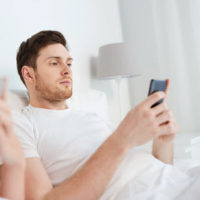 As family law attorneys who practice here in Florida, every August, we regularly see a spike in the number of divorce filings. Divorce can be beyond overwhelming, especially for couples who have to coordinate co-parenting after the divorce. Fortunately, there are new apps and services available that can not only help facilitate that communication with your ex (for the sake of your kids), but can also help connect you with resources for your divorce proceedings, as we discuss below:
Apps That Help with Co-Parenting
OurFamilyWizard is one such app that helps parents coordinate co-parenting by, for example, providing interactive calendars to help determine where the kids are staying on any given day, including holidays. It also provides access to expense logs that allow you and your ex to track expenses, reimbursements, invoices, and similarly important financial information, as well as emergency contacts, insurance information, medical histories, school schedules, and more, and even provides a secure message board that allows you to securely communicate with your ex. If you have any concerns about putting something in writing that could eventually be legally problematic, the app also features a "ToneMeter" which helps flag potentially problematic language before it is sent.
coParenter is another co-parenting app aimed at avoiding conflict with your ex by allowing parents to send non-trackable, secure notifications to the other parent when needed; for example, when notification needs to be sent that the kids have been dropped off at school.  It also allows you to make direct requests to the other parent, for example if you need to switch a day in the schedule and, if a conflict should arise, even provides live mediation/coaching assistance. In addition, if one parent is hesitant to use the app, it allows for "SoloMode" for the parent who does want to use it, enabling that parent to simply communicate with the non-participating parent by sending messages via a separate SMS phone number.
AppClose is another co-parenting app that allows you to manage the kids' schedules, send requests to the other parent, and send date- and time-stamped messages; the difference being that it is completely free to use. TalkingParents too facilitates helpful, practical communication between parents, while also recording these exchanges (and enabling date- and time-stamping) such that the messages are admissible in court, if need be. It also provides the option of recording notices in a secure journal that is kept confidential from the other parent.
Alimony, Child Support, Resources, And Moving On
SupportPay tracks and allows you to manage alimony and child support payments, and allows the paying parent to see what expenses their child support payments are being put towards; while Mend advertises itself as a "personal coach for the brokenhearted," helping individuals get over their relationships by providing training sessions on topics such as "rediscovering yourself" and "managing finances after divorce." Divorceify connects users with resources that may be helpful to their divorce proceedings, such as matching them with attorneys, therapists, mediators, and other divorce-related professionals.
If you are seeking a divorce, contact our experienced Orlando divorce attorneys at Greater Orlando Family Law to set up a confidential consultation and find out how we too can be of help to you during this time.
Resource:
usatoday.com/story/tech/2019/07/24/7-divorce-apps-help-navigate-life-with-your-ex/1748032001/
https://www.orlandolegal.com/does-anyone-feel-like-they-become-a-better-parent-after-divorce/