Taking Control of Your Money Before, During, And After Divorce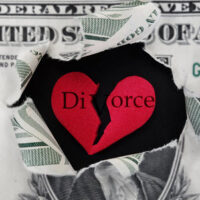 There is no question that finances after divorce are a concern for a number of individuals who are considering going through it. Some may even be afraid to pursue divorce out of fear that they won't be able to support themselves or their families afterward. However, a new study shows that most people feel completely recovered both financially and psychologically within five years after their divorce.
It is, in part, the job of your attorney to set you along a path of success in terms of ensuring that you have control of your finances after divorce. There are also a number of preventative measures that you take as well to help prevent financial woes after divorce. Below, we discuss how to avoid some of these potential money regrets:
Become as Familiar as Possible While Married
According to the study, 80 percent of those who were not involved in their finances while they were married found that this was a detriment once they started to go through divorce. This issue also tends to be associated with a slower financial recovery after divorce.
This Especially Includes Long-Term Planning, Such as Retirement
Not being involved in long-term planning and investments is also another common complaint. Approximately 60 percent of women indicated that they were involved in long-term planning compared to more than 80 percent of men, highlighting a gender disparity when it comes to being familiar and involved with these types of assets.
How Can I Do It?
There are a number of things you can do right now to ensure that you are in a financially equitable situation and protect your future self, such as:
Pay attention and get/stay involved: Each person needs to know the basics about financials, including bank accounts, tax returns, retirement accounts, major purchases, etc.
Talk about what's difficult: The study found that 14 percent of respondents found out about debt that they did not know about, and 10 percent about hidden assets. Unfortunately, this was only exacerbated for women who had been married for more than 20 years. Therefore, make sure you ensure that there is transparency, even if you have to use resources to do so
Make sure that you get a pre- or postnuptial agreement: These can solve a number of issues, including inheritance, businesses started during the marriage
Once you know where you are, it is easier to set goals for the future. This could include drawing up a new budget, knowing how much you have in retirement savings, and checking on your savings and spending habits. Some also find it helpful to work with a financial planner who can provide objective financial planning advice with the goal that they serve as a neutral party to help you with financial choices that are wise immediately after divorce.
Contact Our Florida Divorce Attorneys for Assistance
At Greater Orlando Family Law, our team of skilled Orlando divorce attorneys work tirelessly for our clients and make sure that they can move forward stress free. Contact us today to find out more about our services.
Resources:
reuters.com/article/us-money-divorce-finances/your-money-avoid-divorce-money-regrets-by-taking-control-now-idUSKBN1ZD0EA
businessinsider.com/after-divorce-first-steps-financial-planner-advice
https://www.orlandolegal.com/what-happens-to-pets-in-divorce-custody-battles/