What Are the Most Common Telltale Signs That Divorce Might Be Inevitable?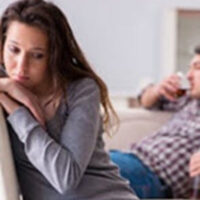 One of the first questions that therapists, counselors, and others who work in the field ask people who are considering getting a divorce is: What is your ultimate goal, and do you think divorce will get you there?
Rarely is there one telltale sign that you should get a divorce; instead, there are usually a number of signs that you may want to watch out for, as we discuss below.
You Are No Longer Eating Dinner Together
While this may seem like a minor factor, in fact, it could be a sign of something major, such as a sign that you two have become disjointed and are losing connection.
They Are Suffering from Addiction & Refuse to Get Help
While some of the more common addictions that can lead to divorce include alcohol, drugs, and gambling, for example, the same issues can stem from serious mental health issues as well, especially if they are endangering you or others.
You Are Only Together for The Kids
It is a common misconception that a couple should stay together for the sake of their kids, or at least wait until they leave for college before they divorce. However, if you and your partner have lost your connection, or you have invested so much energy into your kids that the relationship has been neglected, keep in mind that children being exposed to an unhealthy relationship and behaviors can do more damage to the children than getting divorced.
You Are No Longer Having Fun Together
If there is no longer any fun in a relationship, this may be a sign that there is a level of resentment that is too high for a couple to get past.
You Are Living Separate Lives
If you have been making decisions without your partner's concerns entering your awareness, this could be a bad sign.
You Are No Longer Physically Intimate
No longer being physically intimate together could be a sign that you two are no longer connected.
Other Potential Red Flags
Other signs that could indicate that you are headed for divorce include the following:
You would be fine if your partner wanted to see other people;
You have lost respect for each other, for example, you engage in actions you know will hurt one another, including life-altering decisions;
One or both mock each other to others, make fun of each other during arguments, etc.;
You do not want to come home, or you experience anxiety when you hear them coming home;
You no longer see them with empathy or tenderness; and
The thought of ending the relationship brings you relief.
Contact Our Orlando Divorce Attorneys
Regardless of the signs or your reasons, if you feel that you are moving towards divorce, the most important thing you can do is to meet with an experienced attorney who will work tirelessly by your side to make sure that you move forward protected. Contact our Orlando divorce attorneys at Greater Orlando Family Law to find out more about our services.
Resource:
womenshealthmag.com/relationships/a29126470/should-i-get-a-divorce/
https://www.orlandolegal.com/what-should-i-specifically-prepare-before-my-wedding-in-order-to-protect-myself/