What Happens During an Initial Consultation with an Orlando Divorce Attorney?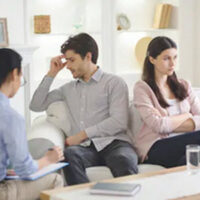 If you are considering filing for divorce or are already going through one, you may have googled an Orlando divorce attorney to get legal advice. Consulting with an attorney is essential to understand your rights and be able to make an informed decision.
When looking through attorneys' websites, you might have noticed that most law firms offer an initial consultation. However, many people are reluctant to consult with an attorney because they do not know how much they would charge for the consultation.
Below, we will discuss what you should expect during an initial consultation and how much it might cost you.
Why Do Divorce Attorneys Offer an Initial Consultation?
Some law firms in Orlando offer a free consultation, while many attorneys charge their prospective clients for legal advice. Greater Orlando Family Law is one of the law firms that offer a free initial consultation.
The purpose of an initial consultation is to give a prospective client a chance to understand how to best proceed with their case. At the same time, the lawyer has an opportunity to learn about a prospective client's case to decide whether or not they want to take the case to represent their interests.
What Happens During an Initial Consultation?
When you call or meet with a divorce attorney for a consultation, you can receive legal advice specific to your individual case. The initial consultation is your opportunity to learn about your rights and understand your options in your divorce or family law matter.
The Orlando divorce attorney will evaluate your situation, listen to your story, and ask you questions to understand the details of your case. The attorney will tell you if they can or cannot assist you with your particular case.
During the initial consultation, the attorney may cite the laws that may be relevant to your specific situation. The lawyer may also explain what steps to take to achieve a positive outcome in your situation and outline the potential weaknesses in your case.
How Much Will I Have to Pay My Divorce Attorney?
As mentioned earlier, some law firms in Orlando offer a free initial consultation to give prospective clients a chance to determine if they are hiring the right attorney for their case.
While you may not have to pay for the initial consultation, you will eventually have to pay your divorce attorney for legal representation. There are several different fee structures that divorce attorneys may use.
Most law firms in Florida charge an hourly rate or flat fee for their legal services. It is important to discuss the fee structure, attorney fees, and legal costs before hiring a divorce lawyer.
Get Your Free Initial Consultation with an Orlando Divorce Attorney
If you want to consult with a divorce attorney but do not want to pay for the initial consultation, contact Greater Orlando Family Law. Our knowledgeable divorce lawyers offer prospective clients a free consultation to answer their questions and address their concerns. Call 407-377-6399 to receive your free consultation today.