What Happens When a Child Custody Evaluation Is Ordered?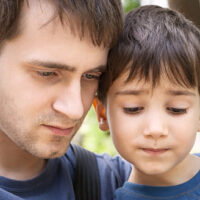 News sources are quick to report on any update in the child custody battle between celebrity actors Brad Pitt and Angelina Jolie, who, in March, reportedly filed a child custody evaluation against Brad Pitt in order to start an investigation into potential abuse, parenting, and mental health issues before their children's custody is decided on.
In Florida, if the initial burden is met showing that good cause exists for an evaluation under Rule 12.360, this is done in a family law case by a psychologist, who is appointed by the court and presumed to be acting in good faith if the parenting/time-sharing plan recommendation they reach is accomplished under standards that a "reasonable psychologist" would use to develop a parenting plan recommendation.
What Does an Evaluation Consist of?
These evaluations typically consist of:
Interviews with the parents;
Interviews with the child;
Interviews with others who may be relevant and helpful, such as extended family members, teachers, doctors, neighbors, etc.;
Observations between the parents and the child;
Psychological testing, as necessary; and
Summaries of any relevant documents reviewed by the evaluator.
Information gathered from the process results in a report that is submitted to the court, which includes parenting plan/time-sharing recommendations that are based on Florida's time-sharing statute. The statute lists a number of factors that must be taken into account in determining the best interest of the child, such as the relationship between each parent and the child, the moral fitness of each parent, their ability to encourage a continuing relationship between the child and the other parent, their ability to place the child as a priority above their own interests, etc. The report also usually addresses concerns brought up by either/both parents.
Can These Evaluations Be Trusted?
While many have commented that there is no one standardized format for conducting and reporting on these custody evaluations, and this can be a problem, the definition of "working in good faith" is derived from the American Psychological Association's Guidelines for Child Custody Evaluations in Divorce Proceedings. Custody evaluators are also guided by the Model Standards for Child Custody Evaluation, which dictate that evaluators must secure ongoing specialized training in order to provide these assessments, especially if the case involves issues such as domestic violence or sexual abuse.
Preparing for an Evaluation
If you are preparing for a custody evaluation, it is important to be honest and sincere, and avoid being defensive and making negative statements about the other parent unless it is absolutely necessary in order to address a parenting plan issue. Also remember that whatever information and statements you share with the evaluator is not protected by any confidentiality. Remember that the court is the audience for the evaluator's report and they are basing their report on what is in the best interest of the child.
In terms of preparing your child for their interview, it is important that you do not coach them and they know that they will not be asked to choose which parent they wish to live with.
Contact Our Florida Family Law Attorneys If You Have Any Questions
While these reports do carry weight with the court and the evaluator is presumed to be unbiased, there are ways of challenging the results of these evaluations, and there are also additional means of "evaluations" that can be brought into custody proceedings, such as the guardian ad litem program, which is appointed by the judge to represent the child's best interest. If you have any questions about a psychological evaluation by Florida family courts or any other family law issue, contact our experienced Orlando divorce attorneys at Greater Orlando Family Law today to find out how we can be of help.
Resources:
ibtimes.com/angelina-jolie-files-child-custody-evaluation-against-brad-over-possible-abuse-mental-2935536
leg.state.fl.us/Statutes/index.cfm?App_mode=Display_Statute&URL=0000-0099/0061/Sections/0061.122.html
apa.org/practice/guidelines/child-custody
https://www.orlandolegal.com/what-do-i-do-if-my-spouses-divorce-attorney-sends-me-a-deposition-notice/