How Can I Make Sure That My Divorce Does Not Negatively Affect My Productivity at Work?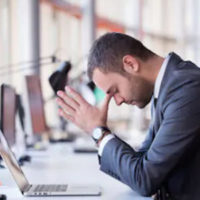 As attorneys who practice divorce and family law here in Florida, one common question we receive is how clients can make sure that their divorce does not negatively impact their productivity at work. While divorce can of course be physically and emotionally consuming, there are some techniques you can use to manage this challenge and maintain your productivity at work, as we discuss below.
Keep Work & Divorce Separate, Where Possible
First, make sure that you build an emotional support network outside of the office, while also keeping a barrier between the conversations about your divorce and the workplace. While you may technically need to discuss your divorce with an HR representative at work at some point, for example, otherwise, discussions about your divorce should be kept out of the workplace. Having an attorney by your side to help you feel empowered should also help you keep these two 'worlds' separate.
Obviously, it can also be helpful to have separate work and personal email accounts so that you're not distracted by personal emails from your attorney coming into your work inbox. In fact, some people choose to create an entirely new email account just to deal with their divorce.  Just don't forget to check that new email account for messages from your divorce attorney. Also do not forget to keep your attorney apprised of any blackout dates in terms of important work meetings or events so that you avoid double booking.
Cut Down On The Drama
You also want to be cooperative and realistic when you can in terms of avoiding potentially contentious issues coming up in your divorce in order to avoid any additional court appearances taking you away from your job. Try to work with your attorney to approach the divorce pragmatically and be as straightforward as you can current terms of the information you produce for the other side in order to save your time and energy.
Set Aside One Block Of Time Each Day
While it may be appealing to put off addressing divorce issues until you get home from work, the reality is that some are going to have to be dealt with during work hours. In order to manage the time that this takes away from work, set aside a block of time during the day when you plan to read and respond to emails and making phone calls that you need. It is helpful to keep a list of questions for your attorney in order to keep to this schedule.
Contact Our Florida Divorce & Family Law Attorneys
One of the most important steps you can take in approaching your divorce is working with an experienced attorney who is on top of the details and makes you feel empowered to be able to focus on everything else that is important in your life, such as your work and family. Contact our experienced Orlando divorce attorneys at Greater Orlando Family Law today to find out about our dedication to our family law clients.
Resource:
forbes.com/sites/frawleypollock/2019/08/29/5-tips-for-maximizing-your-performance-during-divorce/#9ae89bb4950a
https://www.orlandolegal.com/is-there-any-technology-that-can-help-me-co-parent-get-through-my-divorce/