What Happens if My Spouse Dies in the Middle of Our Divorce?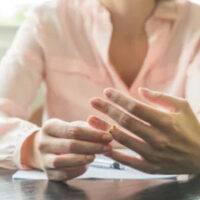 Getting divorced can be a time-consuming and stressful process. In some cases, it takes months or even years to resolve a divorce case, especially if there are many contested issues. But what happens if your spouse dies in the middle of your divorce?
What to do if my spouse dies before our divorce case is final?
If this happens, you will not be able to obtain a divorce now that your spouse has passed away. However, that does not mean that your divorce case will be canceled.
If your spouse dies during divorce proceedings, you will need to file a form called a "Suggestion of Death." Depending on whether your spouse had a Will, your marital assets may be distributed through the probate court.
What if my spouse had a Will?
If your spouse wrote a valid Will before the death, you would have two options:
Continue to live with the terms of your deceased spouse's Will; or
Exercise the elective share right, which is your right to a portion of the deceased spouse's estate, pursuant to Section 732.201, Florida Statutes.
It is highly advised to consult with a divorce attorney in Florida to help you understand your options and do the right thing during these uncertain times.
What if my spouse did not have a Will?
If your spouse did not leave behind a valid Will, their assets would be distributed according to Florida's intestacy law. It means that what you are entitled to will depend on whether there are any surviving descendants (children) and certain other factors.
Typically, when there are no children, the surviving spouse will receive the deceased spouse's entire intestate estate, even if the spouse died in the middle of a divorce.
If there are one or more descendants, the surviving spouse will only be entitled to 50% of the estate. Under Florida law, a spouse loses all inheritance rights when they obtain a divorce. However, since your divorce was not final when your spouse died, you can maintain inheritance rights.
What about the marital home and alimony?
Under Florida law, the surviving spouse will inherit the deceased spouse's marital estate if there are no minor children involved, even if the decedent's Will says otherwise.
If the spouses share children together, the surviving spouse will be granted the marital home until their death. When the surviving spouse dies, their children will get the marital estate.
If the court had ordered either spouse to pay alimony before one spouse died in the middle of a divorce, the order becomes void. Under Section 61.08, Florida Statutes, the death of a spouse terminates the payment of spousal support.
If your spouse died during divorce proceedings, it is advised to consult with a knowledgeable divorce lawyer in Orlando to discuss your situation. The death of a spouse can complicate many divorce-related issues such as the distribution of property, alimony, child custody, and many others. Schedule a consultation with our Orlando divorce attorneys at Greater Orlando Family Law to find out how we can help.