What Is the Average Number of Years of Marriage Before Divorce, And Why?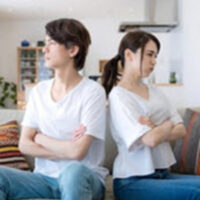 With 50 percent of all marriages in America ending in divorce (and that's just the first marriage: 60 percent of all second marriages and 73 percent of third marriages also end in divorce), a number of questions arise as to why this is the case and after how many years of marriage a couple is likely to divorce. In fact, according to researchers at the National Center for Health Statistics, seven years is the average length of time that a couple stays together before divorcing, and this holds true for every decade studied.
Communication Problems
Researchers hypothesized that there are a number of factors that play into the United States not only having the third highest divorce rate in the world – with one divorce occurring every 36 seconds – but relationships lasting an average of seven years here. Many marriages fail due to problems with communication, and once these misunderstandings begin, they can easily grow into resentment and contempt. This leaves each person in the relationship feeling more and more isolated. Passive aggressive behavior, infidelity, and overspending often stem from the same communication issues as well.
People Living Longer & Wanting More For Their Retirement
In addition, people are simply living longer and may have rationalized staying in an unhappy relationship for their children. Once the children leave the house and retirement is at hand, people will sometimes realize that they do not want to spend their retirement years in an uncomfortable unhappy relationship. In fact, some couples stay together just until their children leave home, which has both its pros and cons, as sometimes children who are college-age are more affected by divorce then very young children. Medical advances and the onset of certain medical conditions are also arguably increasing the issue of infidelity in some relationships.
Children
Even having children can change people and bring unexpected stress into a relationship, or sometimes result in one spouse feeling neglected, rather than bring two people in a relationship closer together. A number of couples also stop going out together on date nights and romantic trips, and intimacy can significantly decrease over time.
Other Trends
Some of the demographics related to these statistics demonstrate that:
The average age of a couple going through their first divorce is 30;
60 percent of all divorces involve people between the ages of 25 and 39;
Women are more likely to initiate divorce proceedings than men; and
The divorce rate is highest for African-American women between the ages of 50 and 59, and lowest for Asian women between the ages of 25 and 29.
Contact Our Florida Divorce Attorneys for Assistance
Regardless of your reasons or demographics, or whether your divorce is simple or complex, you want to make sure that you work with an experienced attorney in order to ensure that you stay protected if you are contemplating divorce.
Our skilled Orlando divorce attorneys are here to help: We have helped a number of clients in Orlando, Winter Park, and surrounding areas of Florida get through their divorce smoothly. Contact us today at Greater Orlando Family Law to find out more about our services.
Resource:
telegraph.co.uk/news/2019/01/17/revealed-best-age-get-divorced-protect-childrens-mental-health/
https://www.orlandolegal.com/why-do-so-many-people-get-divorced-at-the-end-of-the-summer/