What Is The Role Of A Criminal Defense Attorney?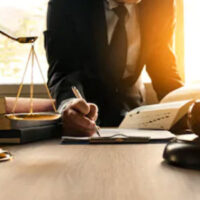 If you were charged with a misdemeanor or felony, you should consider hiring a criminal defense attorney to defend you in court. The following article will provide some helpful information regarding the role of a criminal defense attorney.
What does a criminal defense attorney do?
Criminal defense attorneys are tasked with helping defendants build a strong case to defend them in court. These attorneys have various duties, some of which include the following:
Investigate: A defense attorney has to spend time going through all of the evidence pertaining to your charges. This process may include speaking to witnesses, finding expert witnesses, and gathering additional evidence to build a strong defense.
Provide guidance: A defense attorney is required to guide the defendant throughout the case by keeping the defendant informed about how the case is proceeding.
Present a defense: If the defendant's case goes to trial, a defense attorney has to present the defendant's side of the story before the court and the jury.
Make appeals: If there is a conviction in a case and there is an opportunity to appeal this conviction, a defense attorney will take the necessary steps to do so.
What is the difference between a public defender and a private criminal defense attorney?
In general, it is up to you to decide whether or not you choose to use a public defender or a private criminal defense attorney to defend you in court. However, there are a few key differences that you should be aware of:
Public defenders: Pursuant to the United States Constitution, every defendant is entitled to have an attorney defend them in court. Oftentimes, the court will appoint a public defender to represent defendants, especially if that defendant cannot afford to hire a private criminal defense attorney. A public defender is a licensed attorney who is paid by the government to provide this type of representation.
Private criminal defense attorneys: Some defendants instead opt for a private criminal defense attorney, even if they may financially qualify for a public defender. These kinds of attorneys work for private law firms and are not paid by the government for their services. As such, you will likely need to pay them directly, unless they take on your case pro bono (meaning that they will represent you without requiring you to pay for their services).
What questions should I ask during my initial consultation appointment?
When you attend your initial consultation appointment, you should consider asking the prospective attorney some of the following questions:
"How long have you practiced law?"
"How many similar cases have you handled?"
"What percentage of your time is spent on this specific type of case?"
"What information do you need from me?"
"How long will it take for my case to be resolved?"
"What do you plan to do for my case?"
"How often do you plan to communicate with me about my case?"
"What are your fees?"
Schedule a Consultation to Speak with an Orlando Criminal Defense Attorney
If you need a criminal defense attorney, please contact Greater Orlando Family Law. Our experienced Orlando criminal defense attorneys will answer any questions you may have regarding your charges and will work with you to create a strong defense strategy.