5 Things to Consider Before Signing a Prenuptial Agreement in Florida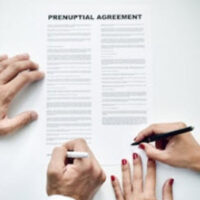 A prenuptial agreement, commonly referred to as a prenup, is a critical legal document signed between two people before they get married. The agreement covers a variety of issues regarding the parties' assets and property rights.
What You Need to Consider Before Signing a Prenup
Basically, a prenup determines who gets what if the parties seek a divorce. Asking your future spouse to sign a prenuptial agreement is not an easy task as it could trigger disputes and cause hard feelings.
However, many people believe that a prenup is a fundamental element of marriage. If you are one of those who wish to sign a prenuptial agreement in Florida, there are five things that you need to consider before placing your signature at the bottom of a prenup.
A Prenup Doesn't Impact Child Custody and Support
Under Florida law, any provisions regarding child support and child custody in a prenuptial agreement are not valid and enforceable. In Florida, every parent is required to support their children financially, while state law also considers that it is in the best interests of the child to have continuing and frequent contact with both parents. Any disagreements about child custody and support will have to be negotiated and settled upon divorce or separation.
Each Party Needs to Disclose All of Their Assets
In order for a prenuptial agreement to be valid and effective, both parties must provide a complete list of their assets, including separate property, savings accounts, bank accounts, pensions, investments, and many more. Most people sign a prenup to protect their individual assets from equitable distribution in the event of divorce. In fact, a prenuptial agreement may be deemed unenforceable if parties fail to provide a complete list of assets when signing the document.
You Need a Prenup Before Marriage
Your prenuptial agreement must be complete at least a few months before you get married. This can ensure that both parties have plenty of time to examine the contents of the agreement and avoid signing it in a rush.
You Need an Attorney
As you may have guessed by now, it is advised to hire an attorney to help you draft a prenuptial agreement to ensure that your individual assets and property are protected in the event of divorce.
It is best to have an Orlando prenuptial agreement attorney draft the prenup for you to make sure that it is enforceable and complies with all applicable state laws. A lawyer will protect your legal rights when creating a prenuptial agreement.
Your Prenup May Not Hold Up in Court
A large percentage of prenuptial agreements are deemed invalid and get thrown out of court. Some agreements do not hold up in court because parties fail to disclose all of their assets when drafting a prenup, while others may be unenforceable because one of the spouses was forced to sign the agreement under duress.
In order to ensure that your prenuptial agreement is enforceable, you need to seek help from a knowledgeable Orlando prenuptial agreement attorney. Here at Greater Orlando Family Law, our attorneys will review your existing prenup or help you draft an agreement from scratch to ensure that your rights are protected. Call at 407-377-6399 for a free, confidential consultation.
https://www.orlandolegal.com/4-situations-when-you-should-modify-a-prenuptial-agreement-in-florida/